American Football
Sat, Sep 26, 2009 One-minute read
First time to an American Football game. I didn't understand much, but people seemed to have fun. It was Stanford vs San Jose and it was full of Stanford students. However, there were brave guys like this: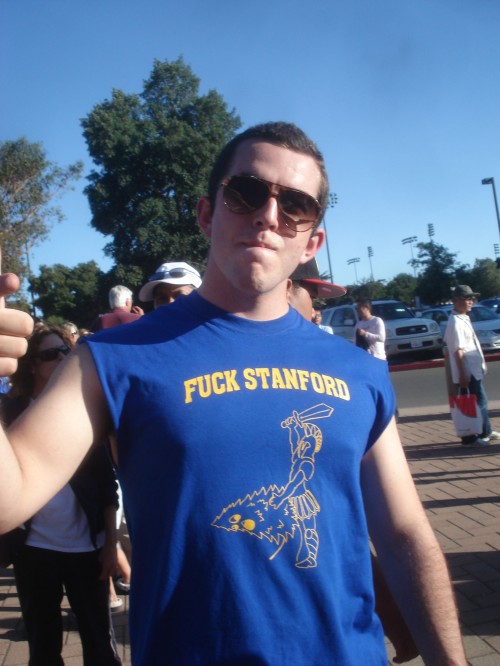 Obviously, San Jose is the Spartan and Stanford is the tree (yes, the tree is our mascot. Quite lame).
Before the game, the Stanford Anthem was played (I think it was the Stanford anthem, I don't know, anyway, I couldn't hear much):
The game started and the Stanford team did a homerun. Or whatever it's called. Everybody went crazy. I didn't understand much. Stanford was 14 and San Jose 0. I asked one guy if San Jose is very bad, or if Stanford is really good, and he told me both were quite bad.
Here you can see the beginning of the game. The end of the video is Alright.
People went crazy everytime Stanford scored. Everybody was wearing the red shirt of Stanford. I didn't understand much.
In the end I decided to have a beer somewhere and leave the stadium in the middle of the game. However, I think I'll come back someday, when the Stanford vs Berkeley game takes place. Or maybe I'll have a beer somewhere else.